Sales agency business
M&A business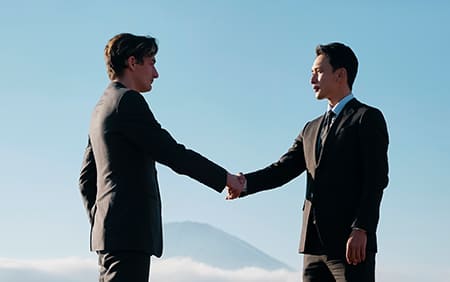 Business-to-business matching
service
for entering
the global market
Intermediary in cross-border
M&As (between international companies)

In view of the struggling of Japanese companies with a lack of a successor, we provide intermediary services through our excellent global connection.

Intermediary for international sales agents with the aim of increasing sales and profits

Even with an establishment of track record and credibility in Japan, it is still difficult to develop an overseas sales due to the potential of risks.
Do not know what methods will be efficient for overseas sales.
Do not know how to develop a business partnership with overseas companies

Ways to sell Japanese highly credible products and technologies to overseas.
How to form a capital alliance with a Japanese company
How to operate an agency service for a Japanese company in overseas.

We offer international cooperate matching services.
We support all aspects of business services, including corporate research (company information, credit inquiries, etc.), product and technical information research, international agency contract intermediation, transportation routes, overseas sales strategy support, sales management support, and foreign exchange management support.